Sketch Booth
Screen Graffiti & Digital Props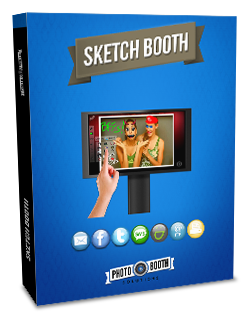 See how Sketch Booth can make your photo booth stand out from the competition!
Screen Drawing, Virtual Props, Green Screen + Social Media
Sketch Booth lets your guests do Screen Graffiti and Drag & Drop Digital Props with your own equipment, at a fraction of the cost of more expensive turn key systems. No franchise fees or revenue sharing. Stand out from the crowd with the most interactive photo booth experience available.
Draw on the screen to add custom artwork to your photos.
Drag & drop virtual props to add hats, moustaches etc…
Built in green screen removal.
Built in photo filters. Color, B&W, Sepia & Vintage.
Share via Email, Facebook, Twitter, SMS, Smugmug & FTP.
Supports Canon DSLR & Webcam.
Takes Photos & Video.
Surveys & Data Collection.
Incl. 1 year of updates & installation on 2 PCs.
Sketch Booth Trial
Stand Out From the Crowd
Your competition doesn't have this…yet
Photo Booths are everywhere. There's probably dozens if not hundreds of companies in your area offering the same thing. 3…2…1…Smile, print, here's your photo strip. With so much competition in the photo booth market, you need to offer something different in order to attract business.
Sketch Booth is reinventing the photo booth. It allows you to provide a truly interactive experience for your guests that they haven't seen time and time again.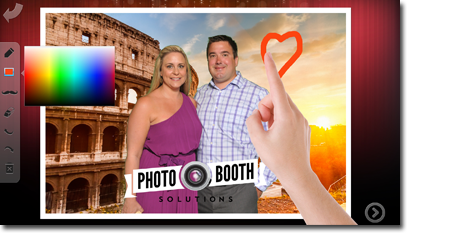 Draw on the Screen
Customize your photos
The killer feature of Sketch Booth is it's screen drawing. Immediately after taking their photo, guests are able to draw on the screen with their fingers to personalize their image. Their photo is the canvas and they can get creative as they want with different brush sizes and colors.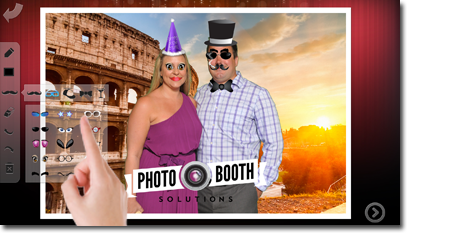 Drag & Drop Virtual Props
Leave the prop box at home
If you've ever sat through a long winded Powerpoint presentation, you know that clip art makes everything better. Ok, not really, but in Sketch Booth it's true. In addition to drawing on their photos, guests can add, hats, moustaches, accessories etc… Drag, drop, rotate, resize. Even better, all of the virtual props are external files, so it's easy to use your own to customize the experience.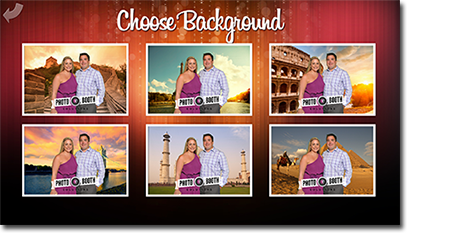 Green Screen Removal
A unique takeaway
Sketch Booth has built in green screen removal. Use the built in scenes or customize it with your own. You can even let the user select their own backgrounds. No need for expensive green screen software, you can do it all with Social Booth.
Take a picture in front of the Eiffel Tower or Colosseum in Rome without ever having to travel there! The only limitation is your own creativity with green screen removal.
Photo Booth Filters
Get Creative
Thanks to Instagram, everybody loves filters and Sketch Booth has them. Let users choose from Color, Black & White, Sepia and a variety of Instagram inspired vintage filters. Vintage filters are external overlays so you can even create your own.
Use up to 17 built in photo booth filters or use the custom filter option to create your own!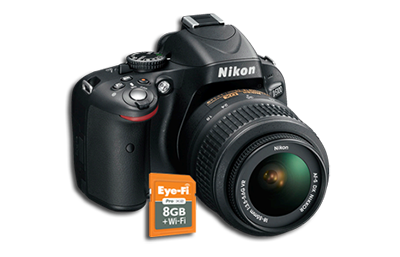 Watch Folder Support
Combine photos from other sources
Add photos from a networked source at your event via a shared folder. Have a roaming photographer with an Eye-Fi card add photos to Sketch Booth for people to select and customize later or have a Sketch Booth running in kiosk mode grabbing photos from the main booth to offset the lines.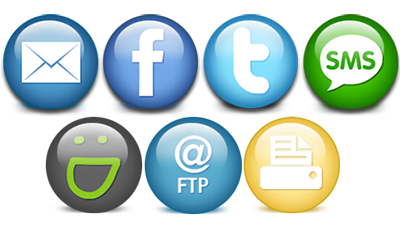 Upload & Share
Share right from the booth
Sketch Booth allows user to share their photos via a wide variety of social media options. Email, Facebook, Twitter & SMS are all supported. Also upload photos in the background to your own company Facebook page, Smugmug account or FTP site. No Internet? No problem. Queue up Emails, SMS & Client Facebook uploads so you can send them once you are back online.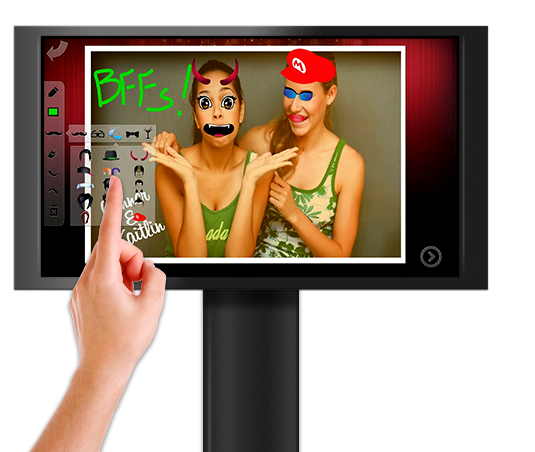 Use Your Own Equipment
Go DIY and save $
It's easy to build a Sketch Booth. You can use your own PC, monitor, stand, camera and printer.
Save money building your Sketch Booth by using your own hardware. Read this article with tips on how to build a Sketch Booth for $5,000 or less.