Photo Booth Software Filters
Photo Booth Filters
Have Fun!
Get creative with Photo Booth Solutions basic to advanced photo booth software filters. Choose from 17 different photo booth filters to liven up your photos. Have fun experimenting with them all. Your friends will be amazed with all the filter options available. When you become an advanced Social Booth photo booth software user, enable the custom option to create your own photo booth filters!
You can use photo booth filters to enhance your photos or add some flair and fun to your photos!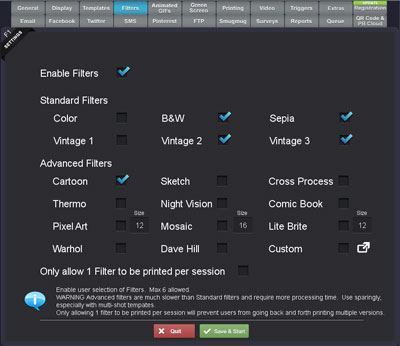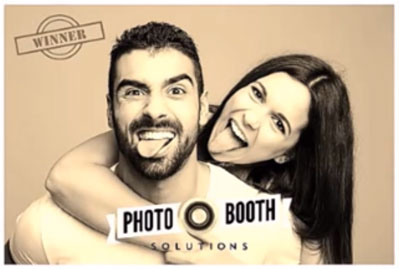 Basic Photo Booth Filters
Photo Booth Filters you Expect!
All the standard basic photo booth filters are included with Social Booth. These include color, black & white, sepia and a variety of Instagram inspired vintage filters. Our basic photo booth filters are very simple to enable. All you need to do is check some boxes and start the photo booth session. You can enable up to 6 photo booth filters.
After the photo session, the user can preview and choose which photo booth filter effect to use.
Advanced Photo Booth
Filters
Get Artistic!
If you are in a really creative mood, try enabling some of the eleven advanced photo booth filters. The advanced photo booth filters include cartoon, sketch, Warhol, Dave Hill, night vision, thermo, pixel art, comic book, mosaic and cross process. Just like the basic photo booth filters, simply check the boxes next to the filters you would like to be enabled. You can preview each filter after the photo booth session and choose the one you like best. Users will have the option of applying up to 6 advanced photo booth filters.
Photo Booth Filters:
Color
Black & White
Sepia
Vintage Filters
Cartoon
Sketch
Warhol
Dave Hill
Night Vision
Thermography
Pixel Art
Comic Book
Mosaic
Cross Process
Much More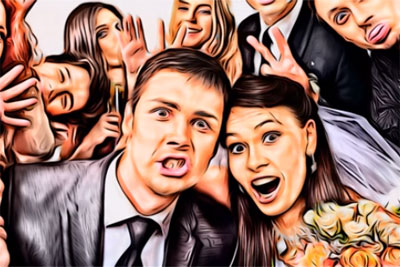 Purchase Photo Booth Software
Free Trial! Full Support!
Click the links below to start using photo booth filters today! The free trial is fully functional without the ability to upload to social media.
Click to Purchase or Download a Free Trial:
Purchase Photo Booth Software
Free Trial