Build a Sketch Booth for $5000 or Less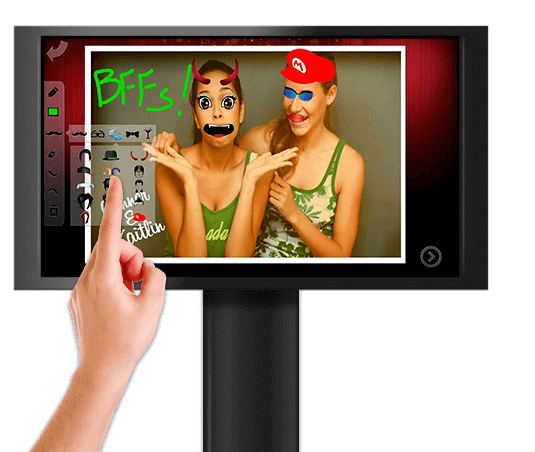 You may already know that Sketch Booth is the most affordable way to add Screen Graffiti and Drag & Drop Digitial Props to your photo booth. What you may not know, is how easy it is to purchase readily available equipment to build your own Sketch Booth at a fraction of the cost of other turn-key systems, without franchise or event fees.
Equipment needed to create your own Sketch Booth
Touchscreen Monitor
The biggest appeal of a Sketch Booth is being able to draw on a large touchscreen monitor and drag & drop virtual props and stickers onto photos to decorate them. 42" touchscreens are going to cost around $2000 new. ELO, Planar, NextWindow are all good choices.
The ELO 4201L is a popular choice.
But if you are looking to save some money, you can usually find some good deals on 42" touchscreens on eBay. Here's a few models to look for:
HP LD 4200TM - $900
Philips BDL4230ET - $943

You can also use a 46" monitor. Those will cost a bit more, but here's a few affoardable choices on eBay:
Elo Touch Systems 4600L - $1445
Samsung CY-TM46 - $999 (Touchscreen overlay. Just add it to a 46" monitor)

Monitor Stand
Now that you have the monitor, you'll need a stand to put it on. If you Google for monitor stands, you are bound to end up at Displays2Go. You are bound to find a stand that fits your style.
Here's one that we like.
This stand is modular and breaks down into a carrying bag.
Both of these stands are under $500

Printer
A dye sub printer is a must for quality prints. Imaging Spectrum has a very thorough comparison chart of all of the dye sub printer out there.
Sinfonia CS2 is under $800.
HiTi P510S is around $850

Camera
Sketch Booth will work with a Canon DSLR or an HD webcam.
For the DSLR, a Canon T3i is fine. You can pick one of those up on Amazon for $500 or even used on Craigslist for $400
For the webcam, a Logitech C920 is currently the best choice for under $100

Camera Mount
There's lots of camera mounts to chose from, and none are particularly expensive. This clamp is just one of the many out there.

PC
There are way too many possibilities when it comes to PCs to make a recommendation on a particular make/model. The PC doesn't have to be top of the line, but it's not a good idea to skimp either. I usually suggest a pretty decent machine like an i3 or i5 processor with 4GB RAM. It will run on less, but it will definitely perform smoother on a faster machine. Something with those specs should be in the $500 - $1000 range.

Software
The Sketch Booth software can be purchased with either 1 or 2 machine licenses. A single license is $2,000. The 1st year of updates are included in the price and are optionally $250/yr after that.
Sketch Booth Costs:
One Sketch Booth Unit
Two Sketch Booth Units

| | |
| --- | --- |
| Monitor | $1000 - $2000 |
| Stand | $300 - $ 500 |
| Printer | $800 - $1000 |
| Camera + Mount | $400 - $ 500 |
| PC | $500 - $1000 |
| Software | $2000 |
| Total | $5000 - $7000 |

| | |
| --- | --- |
| Monitor x2 | $2000 - $2000 |
| Stand x2 | $ 600 - $1000 |
| Printer x2 | $1600 - $2000 |
| Camera+Mount x2 | $ 800 - $1000 |
| PC x2 | $1000 - $2000 |
| Software | $4000 |
| Total | $10,000 - $12,000 |
Total Cost of Ownership:
A single Sketch Booth can be built for $5-$7k, while 2 units will cost you around $10-$12k. There's no franchise fees or revenue sharing.